covid19 odisha gov com|covit19 odisha gov in|covid19redg odisha gov in|covif19 odisha gov in|covid 19 regd odisha gov in|
Amid very large movement of daily wage workers waiting to return to their home states during nationwide lockdown due to COVID-19, Odisha Government launched the scheme for return of almost 5 lac workers who are stuck in diffeey states. The state government on Friday formally launched a portal for registration of names of people who want to return to the state. To contain the spread of pendamic in state the government has made this registration mandatory. Anyone who wants to return Odisha via any means (air/road/train) is required to fill-up the registration form onlin/offline" said Panchayati Raj minister Shri Pratap Jaina.
The government is anticipating the return of almost 5 lac people stuck in different states of country and felt necessary to make a clear-cut roadmap for smooth return of people and the containment of deadly COVID-19 in state. It would be compulsory for everyone to fill-up the form if they want the entry into state. Mr. D.K.Singh , Secretary, Panchayati Raj said " It is compulsory for everyone to fill-up the form. Anyone who has not filled up form will not be allowed entry into the state." He further added "The forms are also available in each Gram Panchayat office in printed and digital formats."
Odisha COVID 19 gov in
The state government has been largely successful in containment of deadly virus in the state and does not want to take any risk amid return of such large number of people to the state, which poses the danger of spread of disease if not handled properly. Mr.Subroto Bagchi, Spokesperson, Odisha state government on COVID- 19 said " The state government has been successful in containing the spread of highly infectious disease in initial stage by making it mandatory the registration of people who returned from abroad, now the same strategy is being adopted for migrants returning from different states within the country." Mr. Naba Kishor Das, Minister Heath & Family welfare, Odisha , in a video conferencing with Union Health Minister Dr.Harshvardhan demanded corona testof migrants at the place they are stuck, before returning to the state.
Odisha Registration of Migrants
| | |
| --- | --- |
| Name | Odisha Registration of Migrants |
| Launched by | Odisha Government |
| Beneficiaries | Migrant workers in other states residents of Odisha |
| Objective | Providing facilities to bring them back home |
| Official Website | https://covid19.odisha.gov.in/ |
registration process for covid19.odisha.gov.in
The migrants will have to go through a 13-step online registration process through a web portal, which will be launched 
During the registration process, those wants to travel back to the state needs to give details like category of traveler like migrant workers, students, professionals, tourists and others.
Besides, they need to give details including their name, age, gender, mobile and 12-digit Aadhaar number, present address (state, district, and city), the number of family members who want to come back, and their details, address in Odisha and contact persons in Odisha.
Those who cannot register online can submit a form with all the above details at the gram panchayat office through a local contact.
The panchayat nodal officers will enter the details of the persons in the web portal covid19.odisha.gov.in.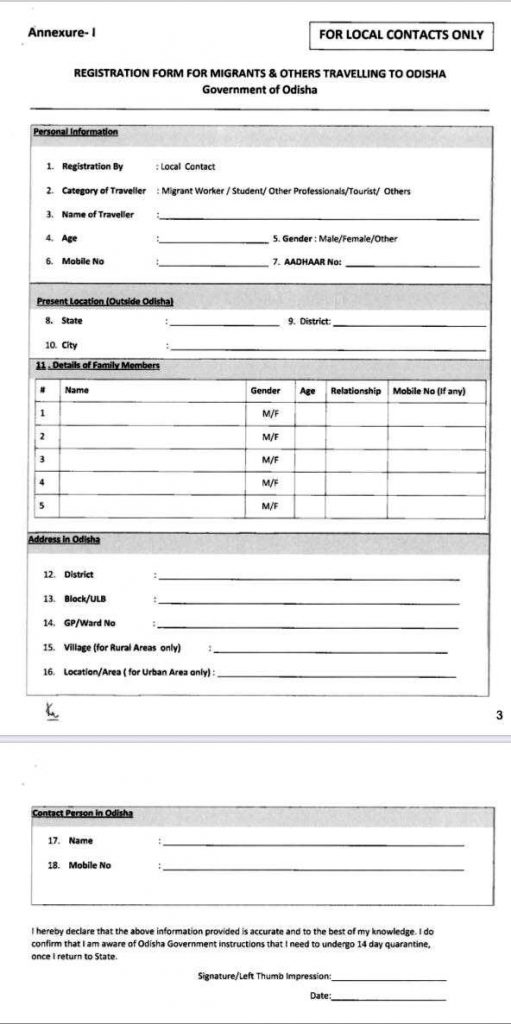 Notably, the state government has already made it clear that no one will be allowed to travel back to Odisha without registration.
The government said that the returnees will go for mandatory 14-day quarantine at temporary medical camps at panchayat level.
The project directors (PD) of district rural development authority (DRDA) of various districts have been designated as the nodal officers to oversee the registration process.
The state government has already set up over 7045 temporary medical camps with 2.22 lakh bed strength, which will be used as state-sponsored quarantine facilities.