kerala mandahasam scheme|kerala mandahasam scheme 2022 online application form|kerala mandahasam scheme 2022|mandahasam scheme
Mandahasam in Malayalam means Smile. It is also the name of the latest initiative by the Social Justice (SJ) department of Kerala. It's main objective is to address nutritional deficiencies in senior citizens without teeth and to rehabilitate them.As per statistics senior citizens constitute nearly 20 percent of the population and about 30 per cent or more may need dental treatment.And through this scheme the department wishes to reduce nutritional, physical and psychological problems that accompanies the loss of teeth.
In association with Dental colleges and Dental treatment centres across the state, the department will make the scheme available to all senior citizens in the BPL category. On providing the necessary documents, a beneficiary of the scheme will receive a financial assistance of Rs.5000 for rehabilitation.In this scheme, the Kerala govt. will provide artificial dentures to senior citizens. The state cabinet has given approval for Mandahasam Scheme aiming at the welfare of elderly people.
kerala mandahasam scheme 2022
he main objective of Kerala Mandahasam Scheme is to give free tooth set for the senior citizens. The scheme aims to reduce nutritional, physical and mental problems faced by the elderly people after loosing teeth. The department would prepare a list of dental colleges and dental treatment centres from where the beneficiaries could avail treatment.
Objective of Mandahasam Scheme
This scheme launched by Social Justice Department of Kerala.

Under which scheme government aims to provide free tooth set for senior citizens.

For smooth implementation, department is going to prepare a list of dental colleges and Dental Treatment Centres where beneficiaries could avail free treatment.

State Government of Kerala aims to reduce health, nutritional and physical problems faced by elderly people after loosing their natural teeth.

Also government is going to provide artificial to set with maintained quality and setting quality treatment standard.
kerala mandahasam scheme Eligibility criteria
Applicant must be permanent resident of Kerala state.

Candidate must be a senior citizen.

The Candidate belongs to below poverty line (BPL) Category.
mandahasam scheme Documents Required
Recent passport size photograph

Copy of ration card

BPL certificate

Income proof

Aadhar card

Voter ID card

Fitness certificate of oral rehabilitation 
Kerala Sahayahastham Scheme 2022
Kerala Mandahasam Scheme Online Application Form 2022
Step 1: Firstly visit the official website at http://sjd.kerala.gov.in/. The Kerala Social Justice Department homepage will appear as shown here.
Step 2: All the new users can click at the "Scheme" tab present in the main menu or directly click at http://sjd.kerala.gov.in/schemes.php. The new page comprising of list of Kerala govt. schemes will open.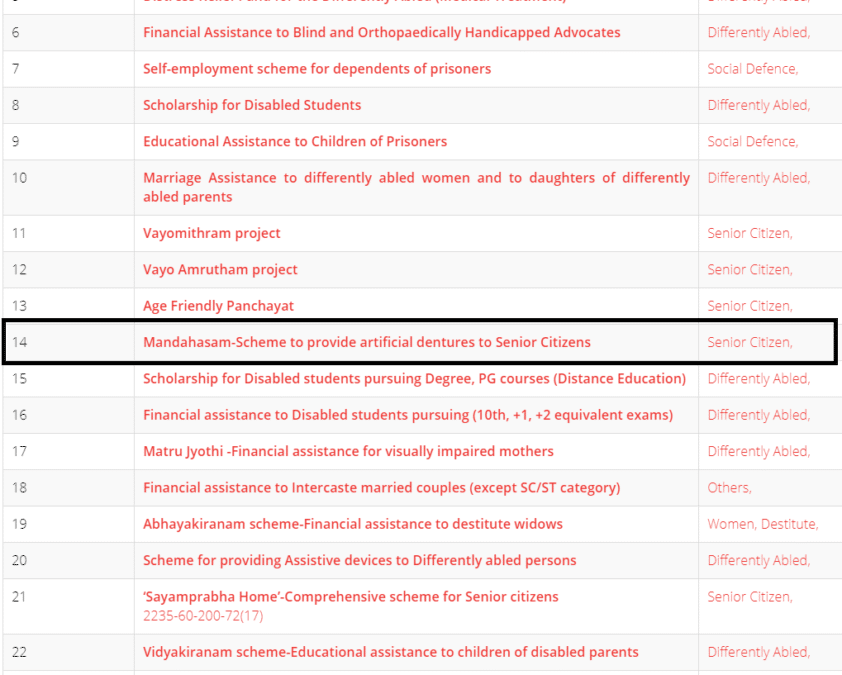 Step3: Click at the "Mandahasam – Scheme to provide artificial dentures to Senior Citizens" link to open the scheme details page. At this page, go to the "Documents" section and click at the "Application Forms – Mandahasam Scheme" link.
Step 4: The Kerala Mandahasam Scheme application form PDF will open as below which can be easily downloaded through online mode.
Step 5: All the applicants can download this scheme form in PDF format. Then applicants will have to enter their necessary details accurately in this Kerala Manda Hasam Scheme application form and submit it to the concerned authorities.
Kerala Mandahasam Scheme List of Beneficiary Senior Citizens
The direct link to check the name in the Kerala Mandahasam Scheme List of beneficiary elderly citizens is given here – http://sjd.kerala.gov.in/scheme-info.php?scheme_id=MTExc1Y4dXFSI3Z5
At this page, go to the "Target Group" section and click at the "Beneficiary Details" link in front of "Senior Citizens". In the new window, select the financial year and district name to open the complete list of Mandahasam beneficiaries.