AP Jagananna Vidya Deevena Scheme 2022| Jagananna Vidya Deevena Scheme Application Form| Ysr Jagananna Vidya Deevena Scheme Status AP Jagananna Vidya Deevena Scheme Eligibile List|
CM YSR Jagan Mohan Reddy has announced the YSR Jagananna Vidya Deevena Scheme 2022. Jagananna Vidya Deevena Scheme, the AP State Government is going to provide Fee Reimbursement for ITI, B.Tech, B. Pharmacy, MBA, MCA, and B.Ed Courses. An amount of INR 15,000 To 20,000 will be offered for the eligible candidates through the Jagananna Vidya Deevena Scheme.
All set for the launch of the Jagananna Vasathi Deevena scheme, which will benefit lakhs of students across the State. Chief Minister YS Jagan Mohan Reddy will be launching the scheme in Vizianagaram district.The AP Government is taking precautions to ensure the complete fee reimbursement for the students. Also, eligible students will get the free hostel and food facilities by the Government. Jagananna Vidya Deevena scheme offers a sum of Rs 15,000 for Polytechnic students, Rs 10,000 for ITI Students, and Rs 20,000 for Graduate Degree and other courses.
Jagananna Vidya Deevena scheme
Education Department will give Rs 10,000 for ITI students, Rs 15,000 for polytechnic students and Rs 20,000 for degree students every year under the Jagananna Vasathi Deevena scheme in two equal installments — in February and July.The objective of the scheme is to help the mothers/guardians financially so that they continue to send their children for higher education without any difficulty. Vasathi Deevena will take care of the hostel and mess charges of  ITI, polytechnic, degree and PG students. The Education Department has approved Rs 2,300 crore for the scheme for the current financial year. The amount under Jagananna Vasathi Deevena will be credited into the account of the mother or guardian of the eligible student.
Jagananna Vidya Deevena & Vasathi Deevena Scheme 2022 – Important Details
Scheme Will Be Supervised By

Andhra Pradesh Education Department

Name Of The Scheme

Jagananna Vasathi Deevena

Implemented By

CM YS Jagan Mohan Reddy

Approval Of Jagananna Vasathi Deevena Scheme
27th November 2019
Implementation Of This Scheme
24th February 2022
Category
Govt Schemes
Offered Pay

For ITI students: Rs.10,000/- per year.

For Polytechnic Students: Rs.15,000/- per year.

For Other Courses: Rs.20,000/- per year.

Scheme Purpose

To Provide 100% fee reimbursement for SC, ST, OBC, minority, Kapus, EWS, disabled

Mode Of Application Form

Offline

Scheme Launched In

Andhra Pradesh

Official Website
ap.gov.in
New Update–

– The state government has spent nearly Rs 12,000 crore in just 11 months the children's education on various schemes. The government would also release Rs. 1,880 crore, which is leftover by the previous government in the form of arrears along with fee reimbursement amounted to Rs. 4000 crore.The government has spent 6000 crore rupees for the scheme and now it is going to spend 4000 crores for the fee reimbursement scheme under Jagananna Vidya Deevena to help the students pursue their higher studies
Jagananna vidya Deevena 1st, 2nd, 3rd & 4th Installment Dates
| | | | | |
| --- | --- | --- | --- | --- |
| Scheme Name | First Installment  | Second Installment  | Third Installment  | Fourth Installment  |
| Jagananna Vidya Deevena Scheme | 19th April | July | December | February 2022 |
AP Jagananna Vidya Deevena Scheme Benefits 
Applicants will get complete fee reimbursement.

Beneficiary will get Rs. 20000/- per annum for food and hostel expenses

This scheme will help the financially week students for their further studies
 Jagananna Vidya Deevena Scheme Objective 
The main objective of this scheme is to promote education and encourage the students for higher studies.

This scheme's another objective is to help the financially week students
Features of Jagananna Vidya Deevena
This scheme is for the students who are pursuing Polytechnic/ ITI/ Engineering/ Under Graduation Degree/ Post-Graduation degree

This scheme is not for the students who are studying through distant education.

Applicant family must not have less wet 10 acres or dry 25 acres or 25 acres wet and dry land.

No member of the family should be a government employee or pensioner or income taxpayer.

Child of taxi and truck drivers and sanitation employees may also apply if they meet the other requirements
Eligibility Criteria for Jagananna Vidya Deevena:
The YSR Jagananna Vidya Deevana scheme is applicable for SC, ST, BC, Kapu, Economically Backward Classes EBC, Minorities and Differently Abled.

The families having 10 acres of wetland and 25 acres of dry land are also eligible for YSR Jagananna Vidya Deevena.

The students having a family income less than Rs. 2.5 lakh are eligible for the YSR Jagananna Scheme.

There is no income limit for the families belonging from sanitation works, dependent on taxi, auto and tractor.

Income tax payers are not eligible

The family having Government Employee or availing pension are not eligible for this scheme.

Sanctuary workers are exempted from the YSR Jagananna Vidya Deevena.

The students studying in Government, Aided and Private colleges are also eligible.

The family annual income shall be less than 2.5 lakh per annum.

The beneficiary's family member shall not have 4 wheeler

If the family member pay property tax, the candidate is ineligible
Course list
Polytechnic

MCA,

MBA,

M.Tech,

M.Pharmacy,

ITI

B.Tech,

B.Pharmacy,

B.Ed

And Other Degree/ PG Courses
jagananna vidya deevena beneficiary list Documents Required
Aadhar card 

Admission fee receipt

Bank account details

BPL or EWS certificates

College admission certificate 

Income certificate 

Non-tax payer declaration 

Parents' occupational certificate 

Residential proof
Procedure To Apply Jagananna Vidya Deevena Scheme
The government has decided to identify the eligible beneficiaries on saturation basis duly checking the eligibility conditions and issue new card for "Jagananna Vidya Devena & Jagananna Vasathi Deevena" schemes through social audit. For the effective implementation of the schemes, the government also constituted two committees one at state level committee and the other a district level committee. 
Eligible appliers need to apply for the scheme through the official

website

,

first visit on the official portal
Now search the official notification of the scheme, click on the link and read the details given in the notification carefully
Now search apply link to fill the application form and click on the link
A new web page will appear on the desktop with an application form where you need to enter all the required details such as your name, date of birth, father name, address, email id, qualification, contact number and other relevant details as asked in the application form

Upload you're recently clicked scanned the image and other related details in the prescribed format

Now before submission of the application form, you need to review the information you enter

Submit the form and take a print out of the form in the end for further use.
How to Apply Jagananna Vidya Deevena Scheme 2022
In order to apply for the scholarship received under Jagananna Vidya Deevena 2022 Scheme you should follow the steps given below:
Firstly open the browser from your computer or laptop and visit the official website of YSR Navasakam by clicking here.
Then Jagananna Vidya Deevena Scheme Apply online homepage will open.
In the top menu bar, you will find the 'Downloads' tab. Click on this tab and select 'JVD Fee Reimbursement Proforma' from the dropdown menu.

This will open a PDF file titled 'Social audit and Survey format for Fee Reimbursement'.

Now download the file and take a printout of the Jagananna Vidya Deevena PDF.

You will be required to fill in several details such as the village, volunteer, mobile number, family details, bank account details, validation information, etc.

Once you have filled in the application form, then attach relevant documents with this application.

Finally, you have filled in all information, then submit this application form to the concerned government department.
Check Jagananna Vidya Deevena Status|jagan anna vidya deevena eligible list
Step 1:know your Secretariat Code (Click on the text with blue color to get Detailed Reports)
Example: I want to know AMARAVATI Secretariat Code
Then Click on the "GUNTUR -> AMARAVATI -> AMARAVATHI – 1 -> 10790742″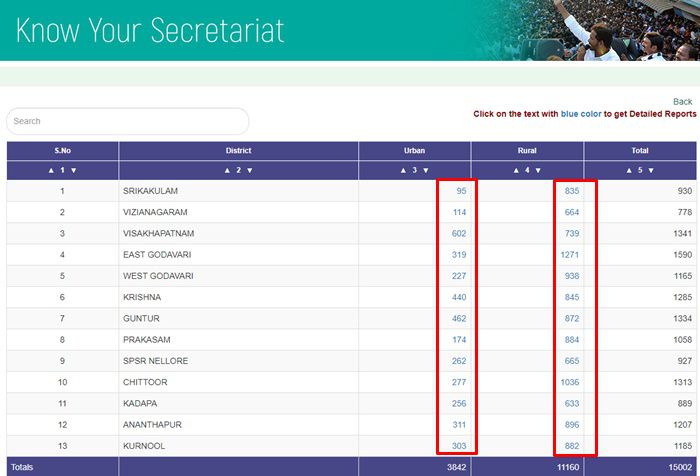 Jagananna Vidya Deevena Eligible List 2022
If you want to check your Jagananna Vidya Deevena status follow the below steps
First, you have to go to the official website of the jnanabhumi.ap.gov.in portal
After clicking on the above link you will redirect to the Jagananna Vidya Deevena Eligible List page
On that Jnanabhumi JVD Eligible List 2022 page, You can see two Options Fresh/Renewal select which one you want for example I was selecting the renewal application
After that, you have to click on the "Get Distic wise Report" then the district page will be open.
Then click on your district then you will redirect to JVD Report – 2020-21 College Wise list select your college or search your college name.
After that Jagananna Vidya Deevena College eligible list will open check your name on the list
Is JVD amount released?
Jagan released Rs 55.95 crore under the Jagananna Vidya Deevena (JVD) scheme for the quarter from October-December 2021, benefiting over 91,779 students pursuing their higher studies in Chittoor district.
How can I get Jagananna Vidya Deevena status?
Jagananna Vidya Deevena Payment status  the official website at jnanabhumi.ap.gov.in, navasakam.ap.gov.in
How do you use a JVD AP?
Residential proof of the applicant.
Income certificate of the Family.
Aadhaar Card of the applicant.
BPL or EWS Certificate (as per applicant's category)
Bank Details of the Applicant (for reimbursement)
College/University Admission Documents.