Andhra Pradesh CM Y S Jagan Mohan Reddy is planning to develop areas near by the cities. State government planning to develop and sell plots near town for the middle income group families.Vijayawada Municipal Corporation Commissioner Prasanna Venkatesh said in a statement on Monday that the state government was taking steps to realise the dream of middle class and low-income communities and started Jagananna Smart Town scheme to provide home space within 5 km of the Vijayawada Municipal Corporation.
It was said that these places will be developed and provided with all facilities. All those with an annual income of between Rs 3 lakh and Rs 18 lakh including government employees are eligible for the scheme. The annual income should be between Rs 3 lakh and Rs 6 lakh for 150 square yards, Rs 6 lakh to Rs 12 lakh for 200 square yards and Rs 12 lakh to Rs 18 lakh for 240 square yards.
Jagananna smart town scheme
The smart towns, which would be situated within five kilometres from the city limits, would have all the facilities including wide roads, drainage system, street lights, drinking water, parks, community hall, schools, health centre and shopping mall, bank, ward secretariat, Anganwadi centre, market, walking track, playground and others.Each smart town would be provided with overhead tank to supply drinking water, electricity substation, plantation, solar panels and other facilities. The municipal commissioner appealed to people to apply for house sites.
Jagananna smart town apply
| | |
| --- | --- |
| Scheme Name | Jagananna Smart Town Scheme |
| Scheme For | Middle Income Group Families |
| Area Of Flats | 200 to 240 Square Yard |
| Scheme announced on | 23rd of March |
| Application Form | Available Soon |
AP Jagananna Smart Township Portal Registration 2022 New Updated
Andhra Pradesh Chief Minister YS Jagan Mohan Reddy virtually inaugurated the Jagananna Smart Townships (MIGs) and its official website in an event held at the CM Camp Office in the state on Tuesday. In the first phase, plots will be allotted in Dharmavaram, Mangalagiri, Rayachoti, Kandukur, Kavali, and Eluru.
Speaking after the launch of the townships the Chief Minister said that it was the government's endeavour to ensure that every poor person's dream of owning a home comes true.  So far 30 lakh house titles have already been distributed and the construction of houses for the poor has already started, he said. People have been given the option of choosing house plots in the sizes of 150, 200, 240 square yards. The Chief Minister said that the Jagananna Townships would be set up in every constituency. In the first installment, layouts have been prepared at Navalur near Mangalagiri in Guntur district, Dharmavaram in Anantapur district, Kandukur in Prakasam district, Rayachoti in YSR Kadapa district, Kavali in Nellore district, and Eluru in West Godavari district.
Objective of Jagananna Smart Town Application
In the Jagananna Smart Town, the advantage in 2021 will be only for the center pay bunch. A large portion of individuals in India were not at their homes. This is because of high paces of property and plots. To beat this, Andhra Pradesh Chief Minister YSR Jagan Mohan Reddy dispatched the Jagananna Smart Town Scheme to engage the center pay bunch. Volunteers get assent from the public authority's side in Andhra Pradesh. With the assistance of these structures, the volunteer will realize the number of individuals are keen on this plan.
Features of Jagananna Smart Town
The state administration of Andhra has proposed to give land to the MIG (Middle Income Group) and create provinces with all offices at areas inside five kilometers from existing metropolitan territories.

The land zone (plot) goes from 150 square yards to 240 yards.

Qualified individuals have yearly pay from 3 lakh to 18 lakh

Government representatives can likewise take part in this plan turned out their yearly revenue doesn't surpass as far as possible.

This shrewd town plot is an extraordinary activity by the state government to guarantee that the center pay bunch gets a home they had always wanted.
Eligibility criteria of Jagananna Smart Town Scheme
Applicant who is permanent resident of Andhra Pradesh is eligible for this scheme.
Only middle income group (MIG) families are are eligible to apply for this scheme.

The plot area size is 200 TO 240 square yard. If this size is good for you then you can apply for this scheme.
Benefits of Jagananna Smart Town
These is area in which size of plots ae 200 to 240 square yard has been distributed.

Only middle income groups are eligible to apply for this scheme.

Facilities like employment opportunity, schools, hospitals, transportation facility, medical facility is available within 3 kilometre of these smart towns.

The municipal corporation and municipality will be available within 5 kilometers of these town areas.

In Ongole in municipal corporation locations like Koppolu, Muktinuthlapadu, Mangamur, Donka Road are now in the list of these smart towns.

After the guidelines has been issued by the Andhra Pradesh government the Ongole municipal corporation has identified locations which are working under the Jagan Anna smart town scheme. In this scheme the locations in Ongole Municipal corporations are Koppolu, Muktinuthalapadu, Mangamur Donka. After searching these locations authorities are going to take public advice and give their preferences.

According to the Ongole municipal corporation mayor Gangada Sujatha this scheme is very useful for the middle income groups. With the help of the scheme families will get a residential plots on a very affordable rates. CM Y S Jagan Mohan Reddy fulfill their promises and great best infrastructure as well as smart town development in all over the state.
Jagananna Smart Town application form
Right now there is only notification is released on 23rd of March by the CM Jagan Mohan Reddy.

In jagan Anna smart town scheme the survey and public opinion will be taken by the district authorities and Municipal authorities.

When the survey exercise has been completed, then application forms will be released by the concerned department.

This scheme is specially for middle income group families.

Show all the applicants that are belong to MIG we can apply online for this scheme.
Application Procedure for Jagananna Smart Town Scheme
At present, notice has been given by CM Jagan Mohan Reddy on 23 March as it were.

The review and popular assessment will be taken by the locale authorities and civil authorities in the Jagan Anna Smart Town Scheme.

At the point when the overview practice has been finished, the application structures will be given by the office concerned.

Fill this application form and submit it to the concerned division. Inadequate applications are disposed of and thought about right

The office will at that point discharge the last rundown of recipients and chose individuals can visit the workplace to finish the customs.
AP Jagananna Smart Township Portal Registration
Firstly visit the official AP Jagananna Smart Township Portal at migapdtcp.ap.gov.in
At the homepage, click at the "Apply for Plot" tab present in the main menu or directly click https://migapdtcp.ap.gov.in/Login.aspx
Then the page to make login for MIG Plots under AP Jagananna Smart Township Scheme will appear as shown below:-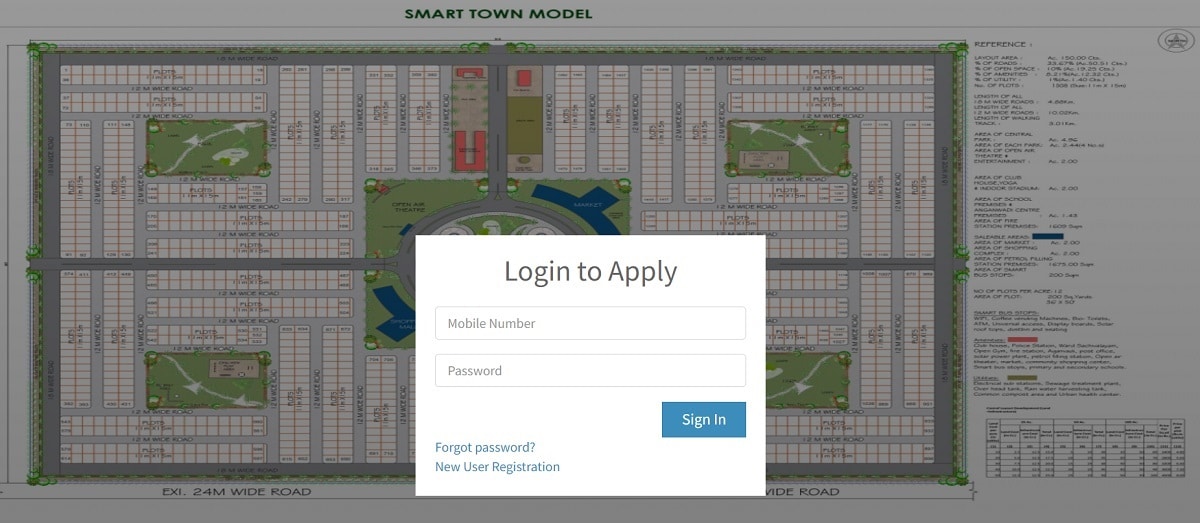 Enter the mobile number, password and click at "Sign In" button to make login to apply online for plots under AP Jagananna Smart Township Scheme.
All the new users can make AP Jagananna Smart Township Portal Registration first by clicking at "New User Registration" link.
Direct Link: https://migapdtcp.ap.gov.in/Register.aspx
Upon clicking this link, the AP Jagananna Smart Township Scheme registration form will appear as shown below:-
Enter name, e-mail address, mobile number, password and then click at "Register" button to make AP Jagananna Smart Township Portal registration. After registration, MIG category people can proceed to login and apply for plots.
Procedure to Check the Beneficiary List
As referenced above, after the last date for accommodation of utilization is finished, the division will sort the applications. Chosen applications will be transferred on the authority entrance and showed openly. Intrigued candidates are informed to hang tight for the fulfillment with respect to the application interaction to check the rundown of chose candidates under this new Smart Town conspire declared in Andhra Pradesh.
Frequently Asked Questions
What is Benefit of Jagananna Smart Town Scheme?
In this scheme plots (Land) will be provided at affordable rates. These plots will be distributed on the basics if annual income.
What is the plot Size of Jagananna Smart Housing Scheme?
In this Scheme Plot Size is 150, 200 to 240 Square Yards.
What is the Income Criteria to take benefit of this scheme?
In this scheme, MIG (Middle Income Group) Families are Eligible for this scheme. The Income criteria is 3 lakh to 18 Lakh Rupees Per Year earning families are eligible.
On witch date official survey is conducted?
The Survey process was completed on 7th of April 2021
What is procedure to download Jagananna Smart Town Scheme application form?
Application forms for this scheme is provided in the nearest MRO Office, Collector Office and In your Nearest village and Ward Secretariat office. The online application forms will be invited soon.
What are the Facilities Provided in Jagananna Smart Town?
In this Project, the houses will be near to developed area maximum 3 kilometers. Facilities Like school, Hospital ect. are with in 3 kilometers. Other facilities like municipal offices are maximum 5 kilometers form this smart City.