chardham yatra registration 2022|char dham yatra package|char dham yatra registration|Chardham Yatra e pass 2022|badrinath, kedarnath gov in:Enthusiasm among devotees coming for the Char Dham yatra beginning on May 3 is at its peak with more than one lakh pilgrims having registered so far for the pilgrimage.The Uttarakhand tourism department has made registration of pilgrims for the yatra mandatory this time for their safety and well-being.Pilgrims, therefore, are registering themselves online on the department's website.Char Dham yatra begins this year on May 3 with the opening of the Gangotri and Yamunotri temples in Uttarkashi district. The portals of Kedarnath will open for devotees on May 6 and those of Badrinath on May 8.
The opening date of the temple every year decide at the Basant Panchami by Temple's main Priest. By the announcement of the opening date, people from all over India and World started planning to visit Badrinath, Kedarnath, Gangotri, and Yamunotri temples. you are giving complete information about the opening dates of Badrinath and Kedarnath Temple. All about the online registration for Char Dham yatra. The best online/offline facility available for the devotees by The Government of Uttarakhand State. Due to Covid-19 for the Last 2 years, The Government has declared some guidelines for the pilgrims.
Chardham Yatra 2022 Registration
Tourism secretary Dilip Jawalkar said from May 3 to May 31, 15,829 pilgrims have registered for Yamunotri, 16,804 for Gangotri, 41,107 for Kedarnath and 29,488 for Badrinath.With the Covid pandemic situation returning to normal, pilgrims in large numbers are expected to come for the yatra this year, he said.It is for the first time that they are being provided the facility of online registration and verification.
The devotee who is planning for the Char Dham Yatra this year can avail of many of the online facilities from the official website of the Char Dham yatra and Uttrakhand Tourism website. Char Dham is one of the prominent Hindu pilgrimage temples, which include all the Char Dham, or you can call the Char Dham as Four Sacred Temples Shree Badrinath, Kedarnath, Yamunotri, And Gangotri. All the four pilgrimage sites are situated in the Garhwal region of Uttarakhand state.
Char Dham Yatra 2022 Details
| | |
| --- | --- |
| Name of Yatra | Char Dham Yatra 2022 |
| Article Category | Registration Form |
| Starting Date of Kedarnath 2022 Registration Online Form | April 2022 |
| Last Date to Apply | June 2022 |
| Mode of Registration Form | Online |
| Country | India |
| Registration Fees | 150 Rs/- |
| Official Website | https://badrinath-kedarnath.gov.in/ |
Advantage & Center for Chardham Registration
Also known as Yatra Pass, or Yatra permits, the Chardham Yatra Registration will be conducted at 14 registration counters for the devotees. Indeed, the state government has indicated to the fact that ever visitor would be tracked with the help of a GPS-based monitoring system. This will be carried out to ensure that the flow of tourists at every Char Dham remains intact. The purpose of taking this step by the state government is to ensure safe journey of the pilgrims. Also, regular updates of the pilgrims will be recorded. Not just this; the devotees can avail the facilities of lodging and quality food by using their registration cards.
Basically speaking, our travel experts at Shrine Yatra will help you in getting registered with the authorities. Now, you do not have to worry about wandering here and there for registration. We will handle every possible formality for you to get your registration card. The decision of making biometric cards is done to ensure that every pilgrim coming to Char Dham does not get lost around and returns safely for sure. This is because we believe in giving the best of facilities and making your Char Dham journey secured. After all, your safe journey experience is quite important for us.
14 Center List for Char Dham Registration
| | |
| --- | --- |
| Places in Chardham Yatra | Registration Counter Location |
| Haridwar | Railway Station, Pandit Dindayal Upadhyay Parking |
| Rishikesh | Roadways Bus Stand, Hemkund Gurudwara |
| Janki Chatti | Janki Chatti |
| Gangotri | Gangotri |
| Guptkashi | Guptkashi |
| Phata | Phata |
| Sonprayag | Sonprayag |
| Kedarnath | Kedarnath |
| Pandukeshwar | Pandukeshwar |
| Govindghat | Govindghat |
| Uttarkashi | Hina, Dobata |
Steps to do Char Dham Yatra Online Registration
Step 1 : The very first step for Chardham pilgrims is to visit the Chardham Yatra Registration website . You will reach a webpage like below.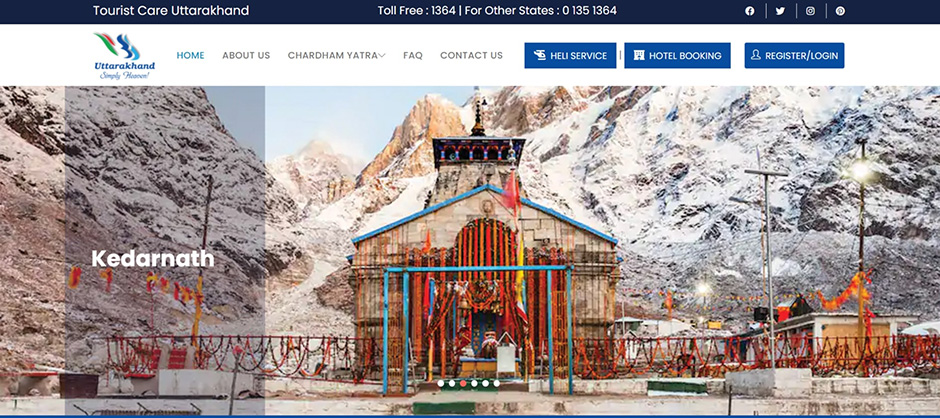 Step 2 : Now click on Register/Login to get below Chardham Yatra 2022 Online Registration/ Login form.
Step 3 : Now a online form asking for Personal Details for Chardham Yatra Registration. Each of the fields are mandatory.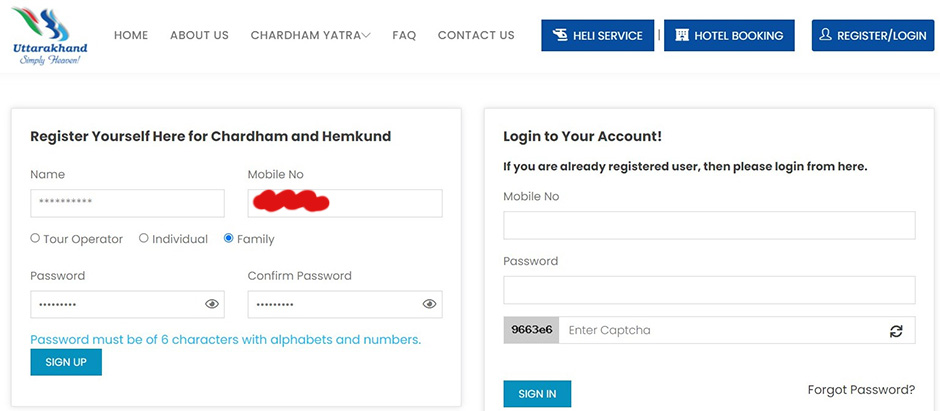 Step 4 : Now Chardham Online Registration System will verify the registration through OTP verification which would received on mobile and email. Complete the OTP verification and click on Verify OTP button.
Step 5 : Now you have to login using Mobile number & password. A personalize dashboard will be open one can Register Pilgrims information.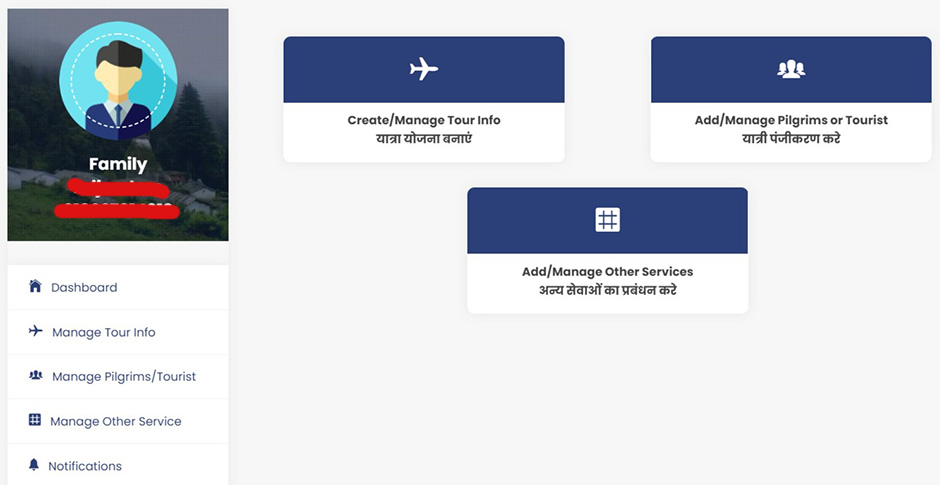 Step 6 : Click on Add/ Manage Pilgrims or Tourist to open below window.
Step 7 : Now add tour plan details such as Tour type, Tour name, Dates of Yatra, Number of tourists. Add each destination with date of visit and save the form.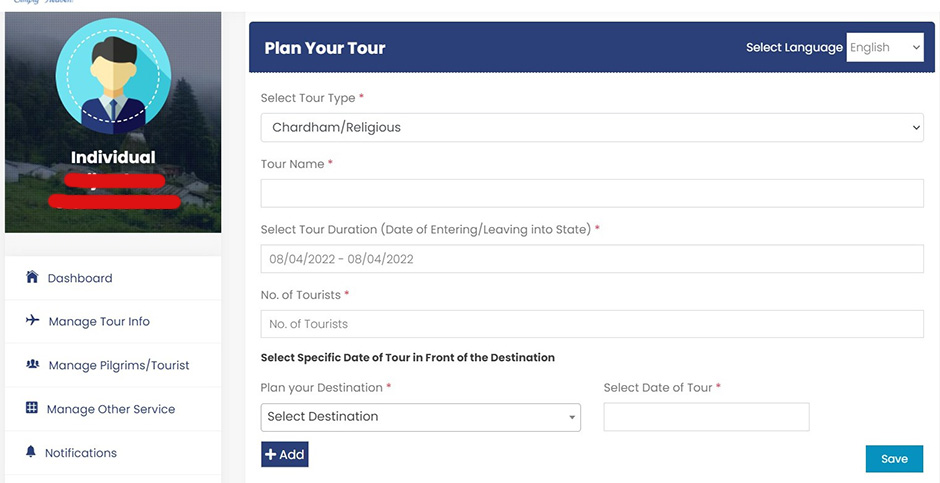 Step 8 : Finally a window showing details of Tour Name, Dates and Destination.
Step 9 : Now add Pilgrims info using Add Pilgrim button.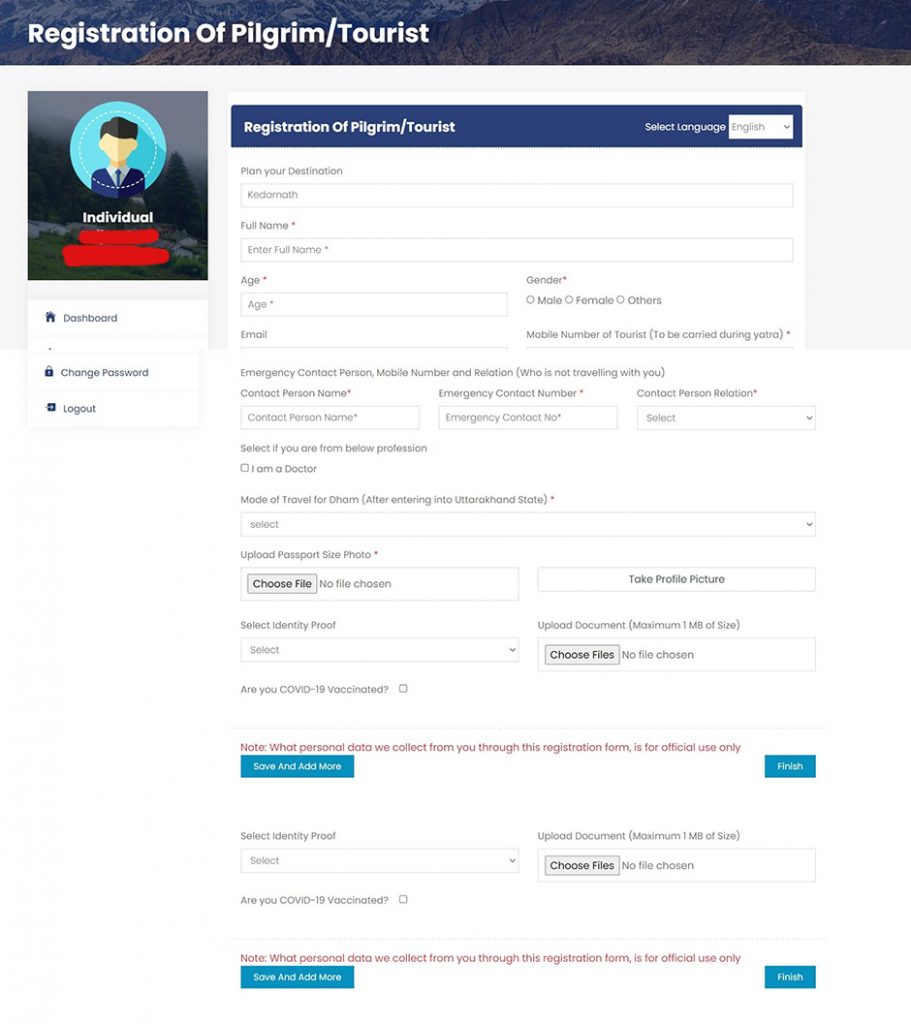 Kindly note that for a single Chardham season, registration can be done using any valid Id. Kindly keep ready, a scan copy of photo id proof (AADHAR) / address proof in *.jpg, *.png format. The size of scan copy must be between 10kb to 150kb.
Step 10 : After registration completion, a Unique registration number will be sent on sms and Registration Letter can now be downloaded for Chardham Yatra travel.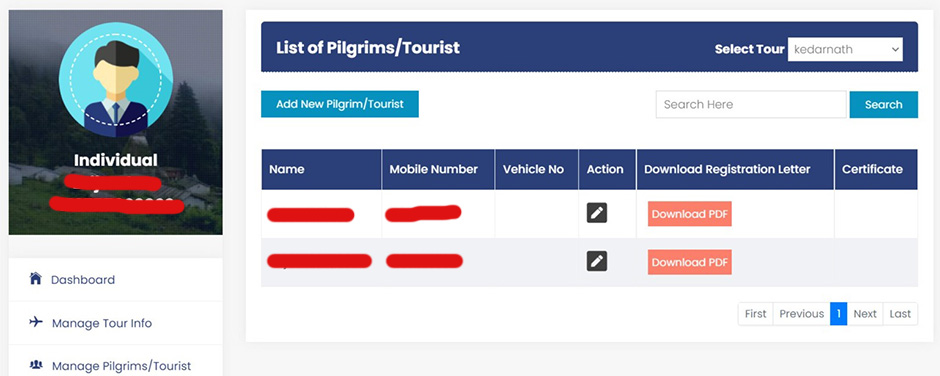 How can I register for Kedarnath Yatra 2022?
Step 1: You need to visit the official website of Kedarnath Yatra 2022- https://badrinath-kedarnath.gov.in/. Step 2: For new registration "Click Here to Register". Step 3: Complete online registration for Kedarnath Yatra 2022.
How to register Chardham Yatra online?
Step 1: The registration can be done on the official website of Char Dham Yatra – for website click here. Step 2: Click on the Register option on the top right-most corner of your screen. Step 3: A new page of the registration form will open. Step 4: Fill up the required details and click on the register.
Is Epass required for Chardham Yatra?
The State Government has now removed the condition for pilgrims to secure e-passes online in order to undertake the Char Dham Yatra. The pilgrims will have to register on the Dehradun smart city website and get tested for Covid-19 as earlier.