amarnath yatra 2022 registration form pdf|amarnath yatra 2022 medical form|amarnath yatra 2022 registration fees|amarnath yatra 2022 official website:The Shri Amarnath Shrine Board (SASB), which organises the annual yatra in Kashmir, on announced to temporarily suspend the registration of pilgrims for the upcoming pilgrimage.To discuss the arrangements for upcoming Amarnath Yatra-2022, Deputy Commissioner (DC) Ramban Mussarat Islam Friday chaired a preliminary meeting to work out plans for smooth conduct of the annual yatra in the district.
The concerned officers gave a firsthand appraisal about the arrangements being made for the Amarnath Yatra-2022 with special focus on power, water and road connectivity.The Amarnath Yatra, an annual Hindu pilgrimage to Jammu and Kashmir's Amarnath Temple, has been suspended for two consecutive years due to the COVID-19 pandemic.
Amarnath Yatra 2022 Registration
All Registrations for Shri Amarnath Yatra 2022 Registration to the Holy Cave Shrine of Shri Amarnath are made against a prescribed Registration Fom. The Requisite Application Form & Compulsory Health Certificate (CHC) for Registration for Shri Amarnath Yatra 2022 is made available online to all the Yatris who wish to undertake the Yatra as well as through designated Bank Branches for Registration of Yatris for Yatra 2022 across India.
Shri Amarnathji Shrine Board issues very clear advisories to inform every intending Yatris (Pilgrims) about the requirement of obtaining the prescribed 'Compulsory Health Certificate as per Format issue by Shri Amarnath Shrine Board (SASB) for Shri Amarnath Yatra' from the authorized Doctors/ Medical Institutes while seeking registration for Shri Amarnath Yatra 2022.
Amarnath Yatra 2022 registration fees
Yatri should need to pay Rs. 150/- as a registration fee and Postal Charges as per scale mentioned below:
| | |
| --- | --- |
| No. Of Persons In A Group | Postal Charges |
| 1 to 5 | Rs 50/- |
| 6 to 10 | Rs 100/- |
| 11 to15 | Rs 150/- |
| 16 to 20 | Rs 200/- |
| 21 to 25 | Rs 250/- |
| 26 to 30 and so on | Rs 300/- |
Things to Consider Before Online Registration of Shri Amarnath Yatra
Like every year, Shri Amarnathji Shrine Board has prescribed certain restrictions for devotees wishing to see Amarnath this year. This ban has been set with the aim of facilitating passengers and making travel easier. Like last year, this year also children below the age of 13 years will not be able to visit Amarnath Yatra. Apart from this, old people above 75 years of age have also been disqualified by the Shri Amarnathji Shrine Board. Along with this, Polyethylene has been completely prohibited on this trip to protect the environment and take care of our health. In the case of any passenger using polythene, he will be fined.
Here we are briefly providing you the necessary information regarding Amarnath Yatra.
All those devotees who want to visit Amarnath Yatra this year will have to undergo a medical check-up.
No child under the age of 13 is eligible to travel.
No older than 75 years of age are eligible to travel.
This time, polythene is completely banned in the Amarnath Yatra.
Those who have come by registering with the Shrine Board and any bank related to them will get Bhima's money.
Shri Amarnathji Shrine Board has arranged accident insurance up to Rs 3 lakh in case of an accident with passengers.
Amarnath Yatra 2022 Registration Date
All departments involved in making yatra arrangements will start executing plans from the first week of April, stated the official, and aim to complete all preparation by May 15, 2022.Amarnath Yatra 2022, if approved, will tentatively take place from June 27 onwards. This year, the yatra would go on for 38 days and culminate on August 11.
| REGISTRATION MODE | DATE |
| --- | --- |
| Offline Registration | 31st May 2022 |
| Online Registration | 28 April 2022 |
amarnath yatra base camp
This is a place located about the hours drive from srinagar.. It's just below the great dangerous zozilla pass.. This place serves as a base camp for Amarnath yatra tourists.. Basically a transit camp present only during the yatra season.. Not so clean.. Has basic facilities with good three tier security by BSF, Indian army and Kashmiri Police
In Jammu and Kashmir, the first batch of 2,234 Shri Amarnath pilgrims left the Bhagwati Nagar-base camp in Jammu for Kashmir Valley this morning. Amid tight security arrangements the pilgrims including 1,839 men, 333 women 17 children and 45 Sadhus and Sadhvis' left the base camp in a cavaclade of 93 light and heavy vehicles.The first batch was formally flagged off by the Advisor to J&K Governor K.K.Sharma amid the chanting of mantras after the special puja performed at the Base camp around 4:30 am today.
This year's 46 day's annual pilgrimage to Shri Amarnath Cave Shrine in Kashmir Valley is commencing from tomorrow.In the wake of the pilgrimage,security has been beefed up on Lakhanpur-Jammu and Jammu-Srinagar highways to facilitate the smooth conduct.
Inspector General CRPF A.V. Chauhan told AIR that adequate number of CRPF, state police and armed police personnel have been deployed in Jammu city and on highways. The convoy of vehicles ferrying pilgrims from Jammu base camp to Srinagar were being escorted by the security personnel.The annual Amarnath pilgrimage is undertaken by pilgrims from all over the country to reach the cave shrine, devoted to Lord Shiva, at an altitude of 13,500 feet.
अमरनाथ यात्रा 2022 पंजीकरण
Amarnath Yatra 2022 Registration online
All the devotees will be able to easily register for Amarnath Yatra online through the steps given below.
First of all, you have to download and fill the application form from the official website of Shri Amarnath Ji Shrine Board. The link to download the application form will be given at the end of the article.
The applicant will have to submit the application form along with the documents of the medical check-up to the Registration Officer.
The registration officer will issue the YPs along with the date and route of the journey. YPs will be issued with separate YALs for Registration Officer Pahalgam and Baltal Routes.
The bank branch will ensure that the date by which the travel permit is issued to cross the travel control gate coincides with the date printed on the travel permit before issuing the travel permit.
In this way, you will be able to easily register for Amarnath Yatra with the Registration Officer.
amarnath yatra 2022 medical form
Candidates can download Compulsory Health Certificate in the prescribed format through the link given below:-
Compulsory Health Certificate (CHC)
The Compulsory Health Certificate (CHC) will appear as follows:-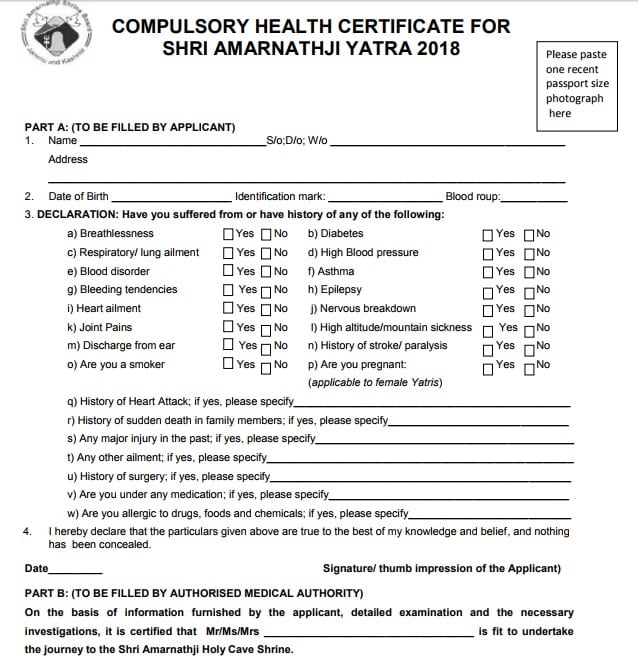 Candidates can make registration through banks. To see the list of banks to make registration through banks, click the link given here – List of Bank Branches
Moreover, to see the procedure to fill the registration form for ex-India Pilgrims, click the link given below:-
Ex-India Pilgrims Registration Procedure
How can I book Amarnath Yatra 2022?
You can register for Amarnath Yatra 2022 and downalod Health Certificate and Registration From Our website
Is Amarnath Yatra Open in 2022?
However, the tentative dates are here of the holy yatra of Amarnath 2022, which has given hope to the millions of Hindu devotees to soak in spirituality.
Amarnath Yatra 2022 Opening Date–27 June 2022 (Tentative)
Amarnath Yatra 2022 Closing Date— 11 August 2022
Which pass is used for Amarnath Yatra?
The correct answer is Mahagunas pass. Amarnath cave temple is located in Jammu and Kashmir at an altitude of 3888m.
How can I register for Amarnath Yatra?
Amarnath Yatra online registration is an easy process and needs the following things for a successful registration:
Get your important documents such as Compulsory Health Certificate and photographs scanned.
Fill the registration form and upload the documents required.
Verify the mobile number using OTP received.